Foreca Weather API -

Weather
Maps
Visualize and build an outstanding user experience
Visualize weather content easily with weather maps
Foreca's weather maps help you visualize weather information and build an outstanding user experience in your service.

Global coverage: includes weather forecasts and observations as map overlays worldwide.

Point forecasts are included in the service.

Easy to use and combine with API add-ons.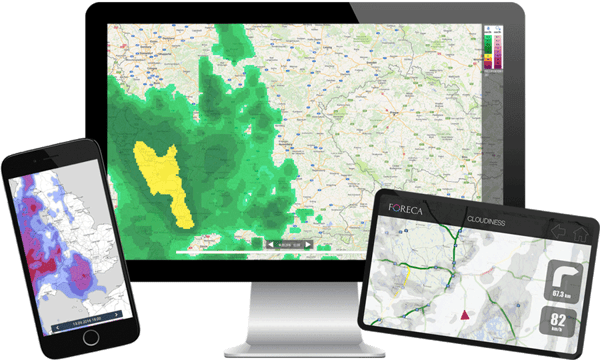 What are the provided weather parameters, what kind of maps can I create?
All the commonly used weather parameters, such as precipitation forecasts and radar observation images, cloudiness forecasts and satellite observation images, temperature and wind speed are provided. Visit our API Documentation for more information.
See examples of our most popular weather maps.
How do the weather maps work?
Our weather maps include weather layers that are designed for use on top of a map. The Weather Maps contain weather data as commonly used map tiles, thus they are compatible with Open Street Maps, Google Maps, HERE Maps, Bing Maps and any other maps using the standardised tile indexes.
You can also use Foreca's simplified maps together with weather information. Contact sales for more information.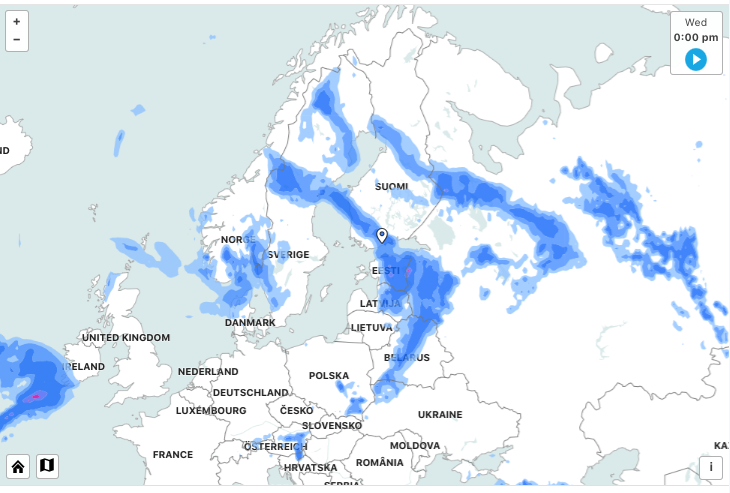 How is the weather data for the weather maps delivered?
The API is based on HTTP queries, which are sent to Foreca servers. The service responds by providing graphics in vector format (SVG) or raster (PNG, JPG). The service can also be requested to list available data layers and available time stamps for any given coordinate (longitude and latitude). This information is given in JSON format. Multiple zoom levels for the weather overlays are available (levels 3-12)
Visit our API Documentation for more information.

Try the API for free!
Visualize and build an outstanding user experience with weather layers on maps